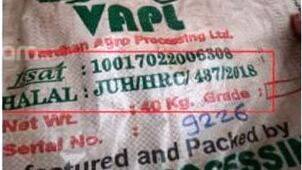 PATHANAMTHITTA: A controversy has erupted after it was found that halal jaggery was used for making aravana and appam in Sabarimala. It has been found that jaggery packets with halal seals are stored in godowns in Sabarimala. It was the previous Devaswom administrative committee that issued a contract for jaggery powder.
While the quality of halal food is being discussed, the Hindu Aikya Vedi has come out against the use of halal jaggery in Sabarimala. President KP Sasikala said that making prasadam using halal products is a challenge to the devotees and God. 'The Devaswom Board should give an explanation in this regard. This serious crime can never be accepted,' Sasikala wrote on her Facebook page.
Meanwhile, a senior official of the Devaswom Board said that halal jaggery was not being used in Sabarimala."Earlier, jaggery powder was provided by the Vardhman Group in Maharashtra. Their term has expired. At present, a company called SP Sugar is providing jaggery powder. The term 'halal' is not printed in these packets," an official said.