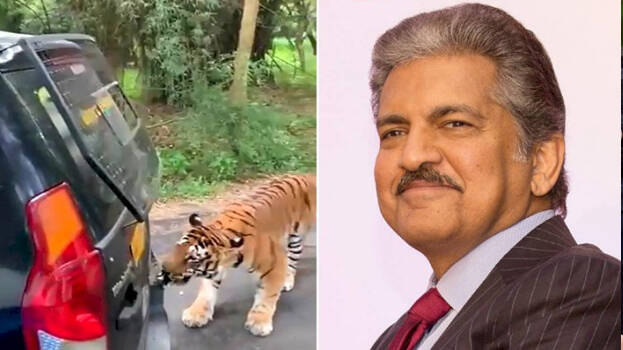 Mahindra Group Chairman Anand Mahindra has shared a video of a tiger biting down on the rear bumper of a car. The video shows the tiger grabbing the bumper of the Mahindra Xylo SUV by its teeth and pulling the vehicle backwards with a powerful grab. Sharing the video on Twitter, Ananda Mahindra also gave an interesting comment about the one and a half minute long video.
'Going around #Signal like wildfire. Apparently on the Ooty to Mysore Road near Theppakadu. Well, that car is a Xylo, so I guess I'm not surprised he's chewing on it. He probably shares my view that Mahindra cars are Deeeliciousss,' he wrote.
The tiger can be seen biting the bumper of the vehicle that was stopped on the road upon spotting the animal. There were six passengers inside the vehicle.
The video, which is going viral on social media, was recorded at the Bannerghatta National Park in Karnataka. It was recorded by a tourist who was sitting inside another safari vehicle.