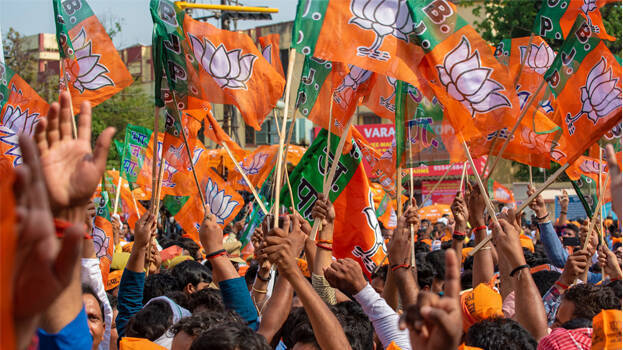 NEW DELHI: The BJP is in the lead in the assembly polls in four out of five states. The party has secured clear majority in the states of Uttar Pradesh, Uttarakhand, Goa and Manipur. The AAP has ensured a sweeping victory in Punjab. With its defeat in Punjab, Congress has collapsed into a pitiable state. In Uttar Pradesh, Mayawati's BSP is still leading in single digits. It will not be able regain power, but has performed rather well.
The BJP is advancing in Uttar Pradesh with a clear seat lead. As per the latest reports, the party is leading in 274 seats, including the power centres of Congress and farmers' protests. All the ministers including Chief Minister Yogi Adityanath is leading as per reports. SP has a lead in 118 seats. Congress and BSP are advancing only in six and seven seats respectively.
In Punjab, the Congress has collapsed completely. The BJP and Shiromani Akali Dal is facing a similar situation before the AAP. The present Chief Minister Charanjit Singh Channi is behind in both seats. Former Punjab chief minister and BJP candidate Amarinder Singh has failed miserably in Punjab. He has been relegated to the fourth position as the counting of votes in Patiala comes to an end. AAP's Ajit Pal Singh has won here. Punjab PCC President Navjot Singh Sidhu, who contested from Amritsar East, has also lost. He was relegated to the third place. AAP's Jeevan Jyot Kaur has won here. As per latest reports, the lead level in the state is: AAP-89, Congress-15, BJP-4 and SAD-8.
In Uttarakhand, BJP has secured the lead following tough fights. It is leading in 44 seats. Congress is leading only in 22 seats. Others are leading in four seats. Majority of the exit poll surveys had predicted a strong fight in the 70-seat state. BJP had a clear upper hand in the first round of results. In the beginning, the AAP had a lead in one seat, but is now out of the picture. The survey results are predicting that AAP will win one seat in the state. 'Give AAP a chance' was the party's slogan in the Uttarakhand poll campaigns.
The BJP is set to become the single largest party in Manipur, leading in 28 out of 60 seats. As the vote counting enters its third hour, the Congress has failed to take the lead in even half of the number of seats it had won in 2017. It has secured lead only in seven seats. The National People's party (NPP) is leading in 13 seats.
In Goa, where the counting of votes has entered its final phase, the BJP is aiming for a rule continuity with a lead in 17 seats. Congress is right behind, with a lead in 12 seats. Trinamool Congress and AAP are leading in four and two seats respectively. A total of 332 candidates had contested in 40 assembly seats.