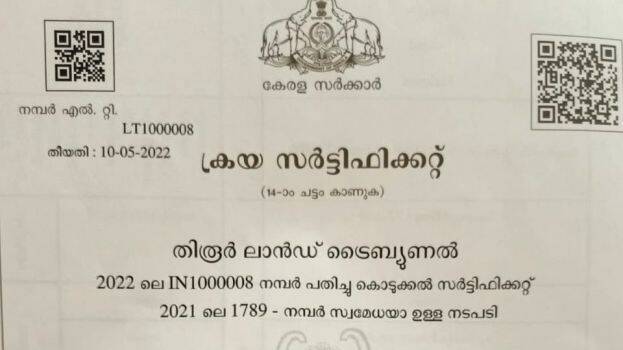 THIRUVANANTHAPURAM: For the first time in the country, e-pattayam (title deed) has been introduced in the state. Minister K Rajan handed over the first e-pattayam to a person named Kunjimarakar at the pattayam distribution fair held in Malappuram yesterday. 100 were distributed in the district. This will eliminate the hassle of paper sheets being destroyed over time. Frauds can be prevented by linking it to the Aadhaar of the person getting the title deed.
Currently, only land tribunal leases (leases issued for government-owned land) are converted to e-pattayams. In the future, this will be applicable for LA pattayams (land previously owned by another owner). The e-pattayams are linked to the ReLIS portal, which provides services to the Revenue Department.
Advantages
Software-based. It will never be lost as it is stored in the State Data Centre
The digital signature is issued by the issuing authority
Because of the QR code, frauds such as forgery will not take place.
All details regarding the title deed can be known using Aadhaar as it is linked
.