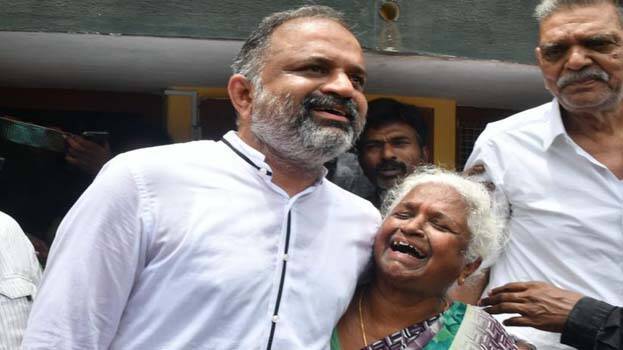 NEW DELHI: AG Perarivalan, a convict who served life imprisonment in connection with the assassination of former Prime Minister Rajiv Gandhi, got released from jail on Wednesday after spending over 30 years in prison. Earlier on Wednesday, the Supreme Court had ordered the release of Perarivalan, while invoking its extraordinary power under Article 142 of the Constitution. Article 142 of the Constitution allows the Supreme Court to pass any order necessary to do complete justice in any case or matter pending before it. The apex court will look into the action of the Tamil Nadu governor who delayed the decision on Perarivalan's mercy petition.
The top court, while releasing Perarivalan, took into consideration his good conduct in jail, medical condition, educational qualifications (he acquired while in custody) and the pendency of his mercy plea with the Tamil Nadu Governor.

During the hearing, the bench disagreed with the Central government's suggestion that it (court) should wait till the President's decision on Perarivalan's mercy plea.

The bench had said, "We will pass the order to release him from jail as you are not ready to argue the case on merits. We cannot shut our eyes to something that is happening against the Constitution and will have to go by the Bible which is the Constitution. There is nobody above law. There are certain powers conferred to dignitaries, but the working of the Constitution should not come to a grinding halt."

Earlier, the Supreme Court had asked the Centre to clarify its position on the release of AG Perarivalan and also pulled up the Central government saying that it "will release" Perarivalan if the government does not take a stand on the convict's mercy plea within a week.

The apex court took a strong exception to the action of Tamil Nadu Governor for sitting of the Cabinet's release recommendation for more than three and half years and then forwarding it to the President.