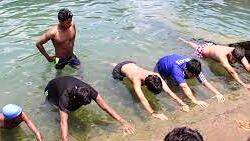 THIRUVANANATHAPURAM: The government has decided to waive off the bonus point of students who are proficient in swimming ahead of Plus One admission. The recommendation of the Director of General Education for the same was approved in principle at the Ministerial meeting. If finally approved, then this will be waived off and the Plus One prospectus will be published.
Currently the bonus is two points. With the Plus One admissions process about to begin, students have already started efforts to get the District Sports Council's Swimming Certificate in northern districts. These students pay fees to apply for a certificate.
Following the Thattekkad boat tragedy that claimed the lives of 15 children in 2007, a bonus point was implemented for children who are proficient in swimming. The students only had to do get a certificate from the respective panchayat and upload it. As several complaints of misuse were reported, the district sports councils have decided to verify the certificate since last year. The proposal to waive off the bonus point came amid criticism that the merit was being subverted through certificate. With the approval of the prospectus, students can apply online for Plus One admission from July 4.