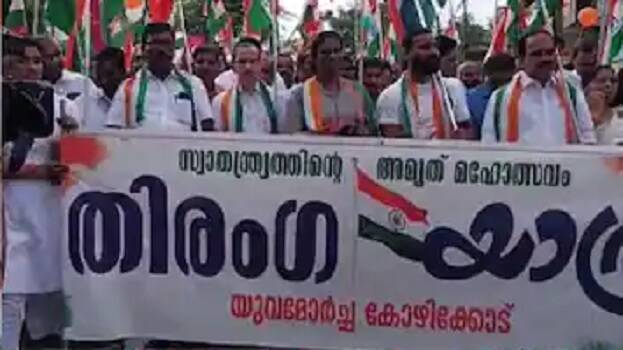 KOZHIKODE: P T Usha, former athlete and BJP MP carried the flag in the tiranga yatra organized by Yuva Morcha Kozhikode. After paying floral tributes at the statue of K Kelappan in Kozhikode, the tiranga yatra was organized till Muthalakulam. BJP leader M T Ramesh, who delivered the keynote address on the occasion, said that the Chief Minister's continued silence on K T Jaleel's pro-Pakistan statement was mysterious.
A CPM worker uprooted the national flag erected as part of the Azadi Ka Amrit Mahotsav at Kottakal in Paliyod. The flag placed under the leadership of Ward Member TI Abhilash in a poramboke land near Kottaikkal Junction of Kunnathukal Gram Panchayat was uprooted by CPM activist Augustine.
He insulted the national flag by defying the locals' request that the national flag is hoisted for three days only. Enraged by the fact that the flag was hoisted on the land near his shop, he uprooted the pole on Friday night and threw it in a nearby house. After the people in the house objected to this, he took the pole back to the poramboke land and left.
Then, when the natives organized and restored the national flag, Augustine tried to uproot the national flag and the pole, leading to a clash between the locals and him. The Marayamuttam police reached the spot and arrested him for insulting the national flag. The BJP regional committee has demanded to demolish the shop illegally built by Augustine on poramboke land.