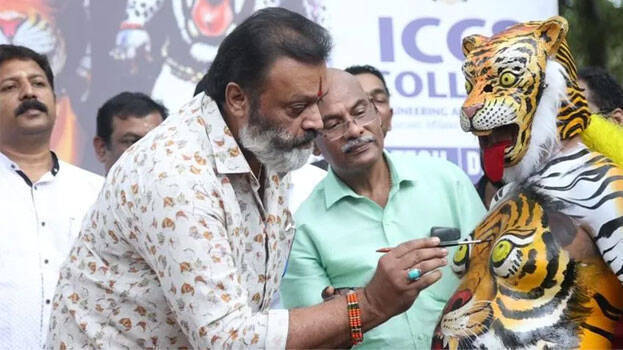 THRISSUR: Actor Suresh Gopi has inaugurated the Meyyezhuthu event, which aims popularize Pulikkali (Leopard Dance), one of the vibrant events of Onam celebrations. The actor, who painted eyes for six Pulikkali artists, extended Onam wishes too.
Celebrations, including the Pulikkali, are a comeback from those days of no celebrations, said the actor. The event also aimed to provide an opportunity for people to know more about the art form. The Meyyezhuthu event was organized by the Shakthan Pulikkali group.
Meantime, Suresh Gopi's latest release 'Paappan' has grossed over Rs 50 crores at the box office. The satellite and OTT rights of the movie, directed by Joshiy, was bought by Zee5 Networks for record prices.
'Paappan' was released in more than 250 theaters in Kerala. The film, which brought together Suresh Gopi and his son Gokul Suresh on silver screen, consisted of a stellar cast, including Vijayaraghavan, Neeta Pillai, Nyla Usha, Asha Sharath, Kaniha, Chandunath, Tiny Tom and Shammi Thilakan among others. The film is produced by Gokulam Gopalan, David Kachappilly and Raaffi Mathirra.