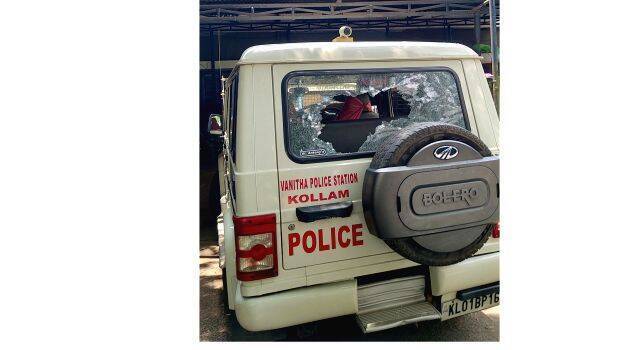 KOLLAM: The functioning of 20 courts came to a standstill as the court boycott strike organised by lawyers of Kollam Bar Association against the police for beating up a lawyer in Karunagapally police station, ended up in clash between two factions.
Three police officers were attacked in the clash. ASI Manoharan Pillai and driver Rajendran is under treatment in hospital. The jeep of Women's cell was vandalized. The bar association has decided to continue the court boycott until the accused police officers are suspended. The policemen who came with the accused were not allowed to enter the court. The incident started at 10 am on yesterday.
The policemen who came with the accused were stopped at the entrance gates of the civil station. The General Body of the Bar Association then decided to boycott the courts. When the office-bearers went to inform the District Judge of the strike, the protesting lawyers tried to seize the wireless set from the Kollam Women's Police Station jeep parked in the court premises. Driver Rajendran was beaten up when he tried to stop them. The window of the jeep was broken.
The policemen who were on duty in the courts were dismissed. The clash then intensified. The conflict eased when the lawyers went to rejoin the Bar Association General Body.
Another policeman who came with the accused was assaulted but no complaint was filed. The functioning of the government offices at the civil station also came to a standstill for two and a half hours. A case has been filed against 65 lawyers.