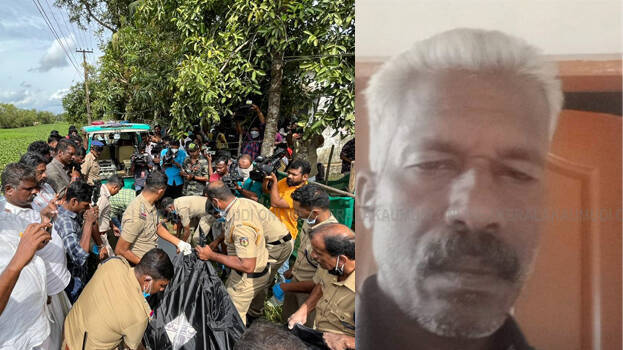 CHANHANASSERY: The accused in the case of killing a youth and burying the body near the shed of a house, has been arrested. The dead is Bindu Mon of Aryad in Alappuzha and BJP east panchayat committee member. The police arrested Bindu Mon's friend Muthu Kumar of Pathirapally in Alappuzha. He was nabbed from Kalavoor in Alappuzha.
The body of Bindu Mon was found buried in a shed adjacent to the rented house of Muthu Kumar. The body is five days old. The police investigating the case got information that the extension floor of the house was dug up and concreted recently. Growing suspicious, the police dug up the floor of the house and retrieved the body. It is not clear whether Bindu Mon was called from Alappuzha to Muthu Kumar's rented house in Changanassery or whether killed him elsewhere and brought his body home and buried it.

Bindu Mon had gone missing on September 26 when he went to attend his relative's funeral in Champakulam. His bike was found abandoned in a stream at Vakathanam during an investigation conducted on the complaint of his relatives. The police found that the last person contacted by Bindu Mon was his friend Muthu Kumar.

Though the police asked him to appear in the station, he fled after switching off his phone. The police also got information that he in an inebriated condition had told some that he had killed him.

Bindu Mon, who does tile and steel works for houses, has a long relationship with Muthu Kumar, a construction worker. After selling his house in Alappuzha, Muthu Kumar was staying near his wife's house in Poovam. After his wife went abroad four months ago, he was staying in a rented house in AC Colony with his three children. He had dropped his children to his sister's house in Nalukodi four days back. Bindu Mon is a bachelor. He leaves behind his father Purushan, mother Kamala and siblings Shanmukhan and Saji.