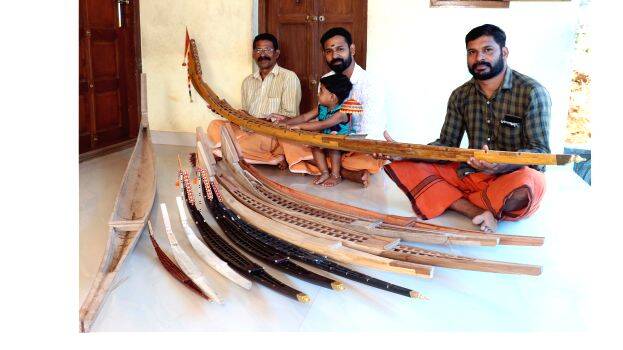 PATHANAMTHITTA: In Aranmula, the land of snake boats (palliyodams), Saradhisadanam in Naranganam is home to around 20 small and big mini-snake boats built on a single wood. They are built on the model of big snake boats, ranging in size from two to eight feet, and have parts and decorations similar to them. These are made of anjili wood with precision, they can be taken into water and will remain balanced. It will also flow if pushed.
Omanakuttan and his family are rowers on the Kozhancherry bank of Aranmula temple. Omanakuttan's son Prasanth is the chief carpenter of the small snake boats.
Being carpenters, they use wood left over from the work site for construction. His brother Pradeep also helps Prashanth. Prashanth's wife Ambili will decorate the snake boat. Many people come to see and buy the snake boats built by Prashanth. More than fifty snake boats have already been built.
Prashanth, who went for carpentry work with his father at the age of 13, built Olamadalil snake boat. He was also part of the construction of Puthukulangara, Cherukol, Melukara and Thekkemuri snake boats. Now he is involved in the construction of large snake boats along with Santhosh, son of prominent palliyodam sculptor Chellappan Achari.
Prashanth says that after the construction of a snake boat, he feels satisfaction like doing an offering to Aranmula Parthasarathy. Family members including Prashanth's two-and-a-half-year-old son Arjun are into bhajan and vanchipattu singing.