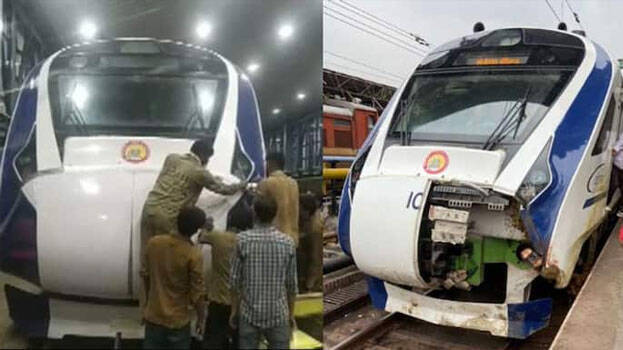 MUMBAI: Mumbai-Gandhinagar Vande Bharat Express train hit a cow near Anand station on Friday. The incident happened just a day after the train hit a herd of buffaloes. The front part of the train was damaged in the accident. The cow was standing on the railway track and it died after the train hit.
The train resumed journey after ensuring that no major damage had occured. Last day, four buffaloes were killed after being hit by a Vande Bharat train on the same route. RPF has filed an FIR against the owners of the buffaloes that have stepped on the railway tracks. The FIR was filed under Section 147 of the Railways Act, 1989, which prohibits unauthorized entry into the railway premises.
Union Railway Minister Ashwini Vaishnaw responded that such collisions with cattle are unavoidable and this has been kept in mind while designing the train. He also clarified that the damaged part of the train can be replaced. Prime Minister Narendra Modi flagged off the Gandhinagar-Mumbai Vande Bharat Express train on September 30. Vande Bharat trains are manufactured in India. The trains on this route also have the specialty of implementing Kavach technology for the first time. Kavach is a protection system to prevent collision between two trains coming in opposite direction.