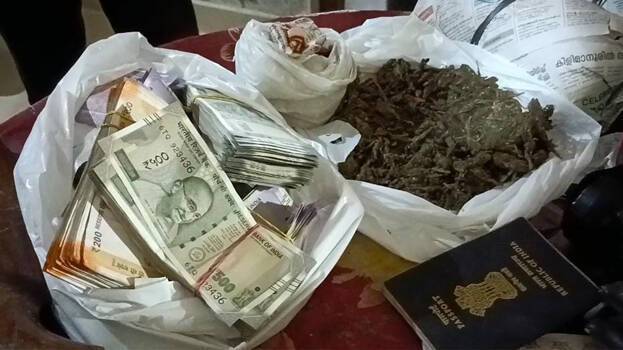 VENJARAMOODU: The police took into custody a 40-year-old youth, an accused in many drug smuggling cases. He was taken into custody with ganja, hashish oil and country gun. He has been identified as Dileep alias Chanthu of Venjaramoodu.
He was taken into custody in an investigation conducted based on a secret information received by Thiruvananthapuram rural SP. The police seized 1200 grams of ganja, six small bottles of hashish oil, country gun, six country bombs, wild boar's ghee, python's ghee and Rs 4 lakh from his house.

Almost 11 sacks of ration rice distributed in Telangana were found from his house. Dileep also smuggled ration rice to smuggle ganja and other deadly drugs.

He was involved in large-scale drug trafficking in the state. His clients include school and college students. Dileep's wife Prabhulla (32) has also been booked by the police in the incident. She was into retail at home. They had kept around 10 dogs at home so that no one entered the house.

The secret information received as part of Yodhav project was handed over to Rural SP DANSAF Team DySP Rasith and then Attingal DySP Venjaramood circle inspector Saiju Nath, sub inspectors Manoj, Sasidharan Nair, DANSAF Team sub inspectors Bijuhak and assistant sub inspector Saju. The accused were arrested by CPOs Shiju Umesh Babu, Vinish Sunilraj and woman police officer Rasrafi.