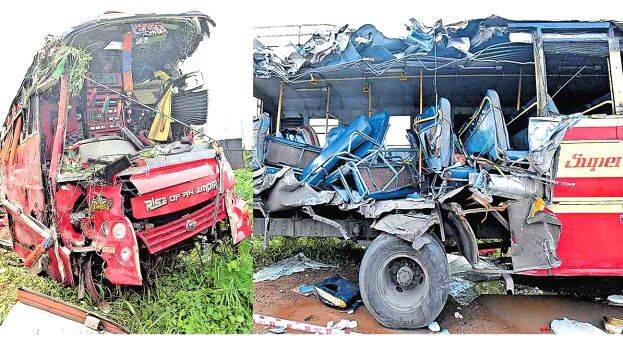 THIRUVANANTHAPURAM: The Motor Vehicle Department (MVD), in its final report on the Vadakkanchery bus accident, in which nine people lost their lives, mentions that the KSRTC bus too had a role in the accident.
In the final report submitted by Palakkad Enforcement RTO, MK Jayesh Kumar, he observed that the severity of the accident was increased because of the KSRTC Superfast bus. However, the main reason of the accident still remains the tourist bus driver, Joemon's carelessness and over-speeding.
The primary report had said that the KSRTC bus had no role in the cause of accident.
The accident occurred when the KSRTC Superfast bus stopped at a curve on the national highway to let a passenger get out. This was when the tourist bus rammed into the Superfast bus. The mistake of the KSRTC Superfast bus was stopping on the road in a way that might cause accident to other vehicles.
However, the main cause of the accident was the attempt of the tourist bus driver to overtake the Superfast bus on the left track and a car on the right track at the same time. Due to over speed more space was needed to turn the curve and Joemon's calculations went wrong. The tourist bus was speeding at 97.7 km when the accident occurred.
Because of high speed, Joemon was not able to deflect the bus without hitting the Super-Fast. A safe distance was also not maintained. When the speed of four vehicles travelling on the same direction is taken into account, the situation of the accident took place within 30 seconds.
The tourist bus hit the KSRTC Superfast bus and went out of control and dashed into a mud heap and flipped sideways. The bus skid through the road for sixteen meters. The report also says that the reason for the accident is not the song or the dancing in the tourist bus.
If a road shoulder was made correctly and a cross barrier placed the tourist bus would not have flipped over. The lines on the road sides were not clear. The sides were over grown with bushes and no street lights were there at the accident spot. Because of this the Superfast driver could not stop the vehicle on the side of the road.
The road was six-lane till 2 kilometers before the accident spot. Joemon was not able to grasp the narrowing of the road to four-lane. There was no space to overtake. He tried to overtake without patience.