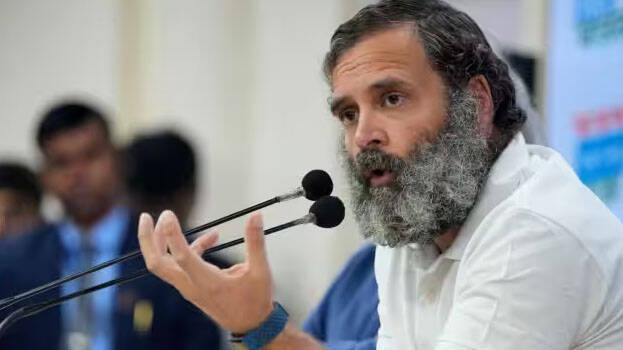 SRINAGAR: The Jammu and Kashmir Police on Friday dismissed the allegations raised by the Congress regarding security lapse that led to the temporary halt of the Bharat Jodo Yatra led by Rahul Gandhi in Jammu and Kashmir.
"The government is acutely mindful of the security concerns and all arrangements have been made to ensure the best possible security for the ongoing Bharat Jodo yatra," RK Goyal, Additional Chief Secy (FC), Home Dept J-K, on Rahul Gandhi's security breach.
"The size of the crowd was larger than planned which led to the pressure on the available security resources & created the impression that security arrangements were not in place. However, 15 companies of paramilitary forces & 10 companies of J-K police were deployed," he added.
This comes after Rahul Gandhi alleged that the police personnel who were supposed to manage the crowd during the Yatra "were nowhere to be seen".
"This morning during the Bharat Jodo Yatra, unfortunately, the police arrangement completely collapsed and the police who were supposed to manage the crowd was nowhere to be seen. My security people were very uncomfortable with me walking further on the yatra so I had to cancel my walk. Other yatris did the walk," Rahul Gandhi said addressing a press conference in Jammu and Kashmir's Anantnag.
Dismissing the allegations, Kashmir Zone Police said that only authorized persons who were identified by organisers were allowed on the route of the yatra.
The police said that the organizers of the yatra did not inform about the large gathering from Banihal.
"Only authorised persons as identified by organisers & frisked crowd was allowed inside towards the route of Yatra. Organisers & managers of BJY did not intimate about large gathering from Banihal joining the Yatra, which thronged near the starting point," Kashmir Zone Police tweeted. The police said that full security arrangements were in place.
"Full security arrangements were in place including 15 Coys of CAPFs and 10 Coys of JKP, comprising of ROPs and QRTs, route domination, lateral deployment and SFs were deployed for high-ridge and other deployments," the police tweeted.
"JKP was not consulted before taking any decision on discontinuation of Yatra after conducting 1 km yatra by organizers. Rest of yatra continued peacefully. There was no security lapse at all. We will provide foolproof security," the police added.
Earlier, Congress In-Charge of Jammu and Kashmir and Ladakh, Rajani Patil, on Friday alleged security lapses in Congress leader Rahul Gandhi-led Bharat Jodo Yatra, and accused the administration of the Union Territory of failing to manage the crowd.
All India Congress Committee (AICC) General Secretary KC Venugopal said that there was no security personnel with the Bharat Jodo Yatra for 15 minutes, and termed it a 'serious lapse'.
Rahul Gandhi-led Bharat Jodo Yatra, which is in its final leg in Jammu and Kashmir, resumed on Friday morning from the National Highway-44, Banihal Railway station, in the UT's Ramban district.