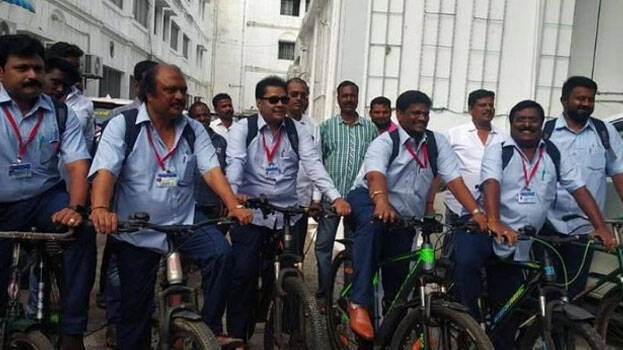 PUDUCHERRY: DMK MLAs have protested against not distributing uniforms and books to students even after eight months of the academic year. As part of the protest, the MLAs reached the assembly wearing school uniforms and ID cards on bicycles.
DMK and Congress members also raised the issue of delay in providing uniforms, bicycles and laptops to government school students and also about the operation of school buses. They demanded that the midday meals provided to the students are of poor quality and the government should give an answer. After Chief Minister N Rangasamy and ministers did not respond to this, Congress members M Vaidyanathan and Ramesh Parambath walked out of the assembly. Then DMK members Siva, AMH Naseem, Anibal Kennedy, R Sampath, R Senthil Kumar and M Nagathyagarajan also walked out.
The MLAs alleged that the government is interested in providing a venue for the G20 in Puducherry and not to improve the infrastructure of schools. The CPM also came forward to condemn the attitude of the BJP-AINRC coalition government towards the students. The MLAs said that the government is neglecting the students and demanded that books, uniforms, laptops and bicycles be distributed to the students as soon as possible.