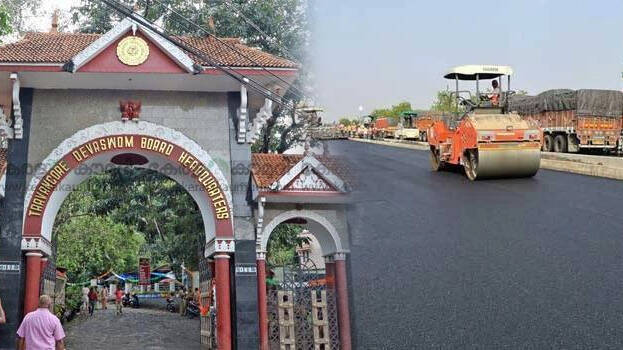 ALAPPUZHA: The Travancore Devaswom Board has written to the government seeking immediate action to provide compensation for the land acquired for the development of the national highway. The land of 27 temples and related buildings in Alappuzha, Kollam and Thiruvananthapuram districts were acquired for the development of roads.
The compensation was withheld because the board did not produce the documents of the land. The devaswom recorded the land as Poramboke.

Considering the road development, the national highway authority has entrusted the land acquisition department to distribute the compensation money as soon as sufficient documents are produced and the compensation money has been deposited in their account. The board did not have the documents regarding the ownership rights of the land obtained through the royal decree during the reign of the king. As it is recorded as poramboke, the government has to take a decision.

Travancore devaswom administrators have not acquired the necessary documents from the revenue department. Most of the board's lands are recorded as poramboke by the government. The devaswom board is thinking about this when compensation was not obtained for the land acquired for the development of the national highway. Crores of rupees are to be received from the national highways authority for the acquired land and buildings. The demand of the devaswom board is to change the type of land and take action to provide compensation.

Other public sector institutions have also raised the same demand. Even if the compensation is not received, the national highway authority will utilize the acquired land for timely completion of road development works.
Acquired 12.59 hectare
12.59 hectares in Cherthala, Ambalapuzha and Karthikapally taluks have been acquired from devaswom board, revenue, KSEB, local self-government, agriculture and education departments for national highway development in the district. The devaswom board owns 1.06 hectares. There were hundis, decorative towers and buildings. The national highways authority had asked the land acquisition department to produce the necessary documents to get the compensation.

There are more than 20 under passages
More than 20 under passages are being constructed from Thuravoor to Kottukulangara. The construction started at Kalavoor, Paravoor, Vandanam, Kuravanthode, Punnapra, Purakkad and Karuvatta Kaduvankulam. Concrete work has been completed everywhere.