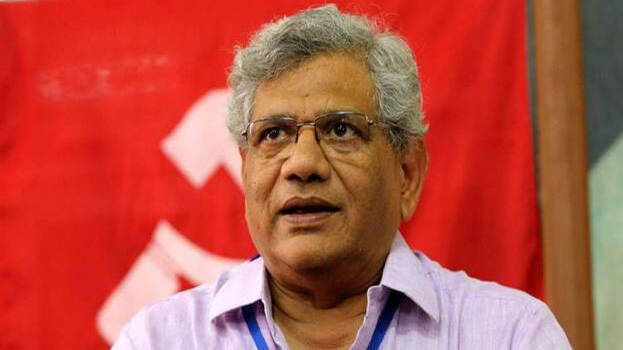 NEW DELHI: Communist Party of India(Marxist) General Secretary Sitaram Yechury on Thursday announced that an eight-member delegation consisting of CPI(M), CPI and Congress is going to Tripura in the post-poll violence areas tomorrow and meet the affected families. He said that an effort will be made to meet the Governor of Tripura.
"The Left Party CPI(M), CPI and Congress party, a joint delegation is going to Tripura. The eight-member delegation comprising of seven MPs and one former MP and incharge of Tripura Congress Ajoy Kumar is part of the delegation," Yechury said.

"The main reason for sending this delegation is that ever since the Assembly election results were announced in Tripura, there has been a kind of terror since that very night. The politics of violence has been waged by the Bharatiya Janta Party (BJP). In areas where the people defeated BJP, violence was started by BJP and attacks on CPI(M) workers were carried out," he added.
The CPI(M) General Secretary further said, "The BJP was thinking that it would be a huge victory but that did not happen. They are angry because of this and so they have started violence in different parts of the state. More than 1000 people were affected and three persons died. In such a situation, to stop violence, it is necessary to go there and create pressure. It is being condemned all over the country."
"BJP feels that it is not possible for them to run the government in Tripura without spreading terror and violence. They have run the government in the same manner for last five years and want to continue it in the same way. This is why the delegation of CPI, CPM, and Congress party is going there," he said while alleging that BJP has been ruling the state by spreading terror.
"The delegation will try to meet the governor. The Chief Secretary will also meet the officials. The rule of law should be established. Important thing is that delegation will meet violence affected family there at ground zero," Yechury added.
Informing about the delegation, Yechury said, "Delegation include Elamaram Kareem CPI(M) MP, P R Natrajan CPI(M) MP, Bikash Ranjan Bhattacharya CPI(M) MP, A A Rahim CPI(M) MP, Binoy Viswam CPI MP, two Congress MPs; one from Rajya Sabha and one from Lok Sabha. Ajoy Kumar."
Yechury stated that the delegation will stay there till March 11 and if need arises the stay would be extended till March 12.
He said, "Once the delegation will be back, it will then submit a report and also raised this issue in Parliament which is going to commence from March 13."
BJP returned to power in the state by winning an absolute majority.