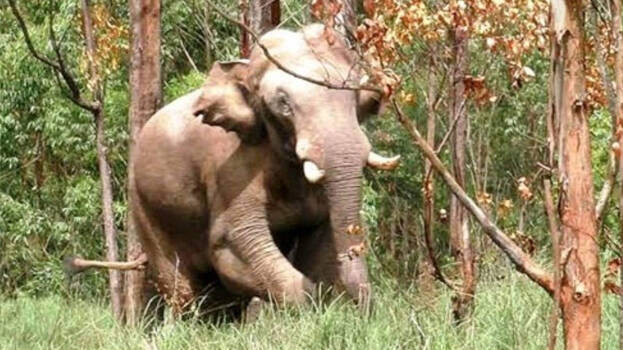 KOCHI: The High Court has stopped the proceedings to capture Arikomban, the rogue tusker wreaking havoc in the residential areas of Idukki's Chinnakanal. The court stayed 'Operation Arikomban' to catch the elephant using tranquillizer darts. The division bench passed the order by conducting an emergency sitting through video conferencing at 8 pm on Thursday. The order came on a petition filed by an organization called People for Animals in Thiruvananthapuram questioning the move of the forest department to tranquillize the elephant and transfer it to the Kodanadu elephant enclosure. The petition will be heard again on March 29.
The division bench directed the forest department to ensure that elephants do not cause any damage to the colony in the settlement area and to depute adequate personnel for this purpose till then. "Keep observing the elephant. Preparations for the capture of Arikomban can also continue. But alternative methods should also be explored. These matters will be considered when the petition is considered again", the division bench stated.
Earlier, the animal protection organization had filed a petition against the order of the wildlife department to capture the rogue tusker and bring it to Kodanadu. The demand in the petition was that after the successful completion of Operation Arikomban, the captured elephant should be released in an uninhabited area. The petitioner also alleged that the order to catch Arikomban and keep it in Kodanadu is unscientific.
Meanwhile, the forest department's operation to catch Arikomban was earlier postponed from March 25 to 26. The mission was scheduled to begin on March 25 morning. It was postponed to the next day considering the plus two exam and not being able to bring Kumki elephans on time. The court's verdict came before mock drill, which was planned to be held on 25th.