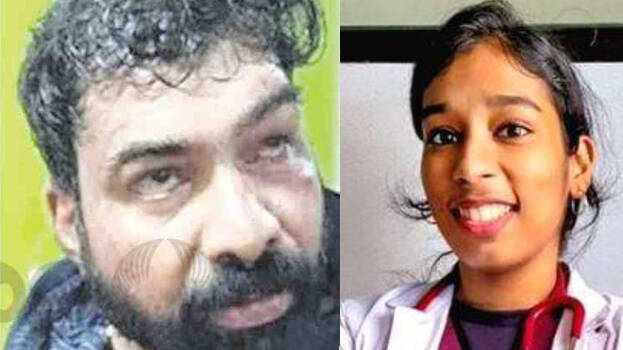 KOLLAM: Sandeep, the aided school teacher, who brutally killed Dr Vandana Das, takes leave for a week soon after withdrawing his salary. It will be a headache for the locals on these days after he gets drunk and creates problems.

He used to regularly cause accidents while driving under the influence of alcohol. There are dents in many sides of his car. He is very obsessed with vehicles and used to buy second hand cars from time to time. Sandeep's relatives had taken him to a de-addiction centre after he regularly created problems. Sandeep left the treatment halfway and became addicted to liquor again.

Sandeep is the younger of the two children of teachers' couple Gopinathan Pillai and Sarasamma, of Veliyam Kudavattoor Cherukarakkonam Sreenilayam. His elder brother G Sajith Kumar is a higher secondary teacher. Sandeep was good in studies since childhood. He got married to Sangeetha of Kottiyam Mailakkad, who studied with him for TTC in Thalavoor. Although he did not quarrel with anyone outside, he used to consume liquor and created problems at home. His wife left him four years ago when he tried to kill her. She then went to her own house with her two sons. She is presently teaching in a music private school in Karunagapally.

Sandeep was a teacher at Ummannoor Vilangara UP School. He lost his job as there were only a few children there. Sandeep included in the protection teachers list, was appointed temporarily in many schools. In December 2021, he was appointed in Nedumbana UP School on a temporary basis. Online classes were going on as it was Covid time. Sandeep stayed away from teaching saying he didn't know how to teach online. In the last academic year, he used to come to school drunk. After the headmaster warned him, he behaved normally. He was in the forefront preparing children for the arts festival. He left after his tenure ended in March. He has not been appointed anywhere since then.

Four days ago, his mother was admitted to a private hospital in Kollam and from then Sandeep was consuming liquor all the time and was mentally unstable. He sustained injuries on his leg after falling into the deep pit dug in the house of his neighbour C B Sreekumar, headmaster of Nettayam Govt L P School.