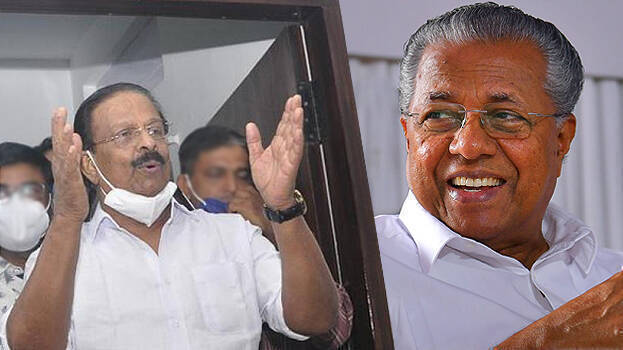 THIRUVANANTHAPURAM: Criticizing Chief Minister Pinarayi Vijayan, KPCC President K Sudhakaran said that he became greedy for money after becoming the Chief Minister. Sudhakaran said that he knew Pinarayi Vijayan from his childhood and he was not corrupt till he became Chief Minister. K Sudhakaran comments came while inaugurating the Youth Congress district conference in Thiruvananthapuram.
K Sudhakaran continued that there were leftist chief ministers before as well, but he has not said anything about them. The KPCC president alleged that the Chief Minister is protecting the party members and that protection is not from his heart. "Pinarayi Vijayan was never corrupt. Pinarayi is from mh place and I have known since childhood. After becoming the Chief Minister, his greed for money, love for his family and eagerness to get his children on track made him a corrupt politician. Even the BJP's black money case was settled by the Chief Minister.", he said.
Meanwhile, K Sudhakaran also criticized the state government over the murder of Dr Vandana Das. He criticized the state government for not even giving a clear explanation regarding the murder. Criticizing the Health Minister, he asked what Dr Vandana Das should have done during the incident. He said that the weakness of the police was the reason for the death and the way of blaming the deceased is not good for cultural Kerala.