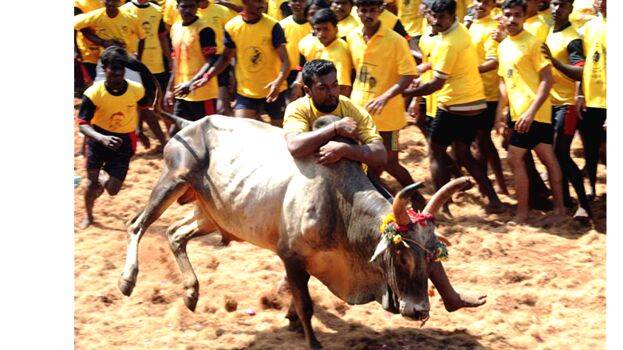 NEW DELHI: A five-judge Constitution bench headed by Justice KM Joseph allowed the tradition of the bull race to continue in Tamil Nadu, Karnataka, and Maharashtra. The move is a relief for the states after doubts traveled about the court stymying the culture that was followed for more than 450 years.
In the 2014 famous animal welfare board vs A Nagaraj case, the two-judge constitutional bench banned the tradition of Jallikattu and bull racing in all three states.
The apex court then ruled the bull-taming sport as one breach of the constitution and said it was pure disregard to the Prevention of animal cruelty ACT. To overcome the SC hurdles, the state govt amended the Prevention of Cruelty to Animals (Tamil Nadu Amendment) Act in 2017. Justice K M Joseph involved bench said the amendment from states can soon turn into a law as it has already achieved the president's approval.
Earlier, a two-judge bench viewed Jallikattu as not part of Tamil Nadu's tradition. However, the new bench has dismissed the views while the court pondered over the cruelty involved in the sport.
"Because there is death does not mean it is a blood sport. I don't suggest that people who are going to participate and climb onto the bulls are going there in order to extract blood in that event. People are not going to kill the animal. Blood may be an incidental thing," the bench, also comprising justices Ajay Rastogi, Aniruddha Bose, Hrishikesh Roy, and CT Ravikumar had observed.
Kambala festival in Karnataka and Bailgada Sharyat in Maharashtra will be conducted unhindered along with Jallikattu after the SC decision.
The BJP Tamil Nadu has credited this favorable decision for the innumerous effort from the hands of Prime Minister Narendra Modi who went vocal all over for the liberation of festivals to be conducted in its pure form.