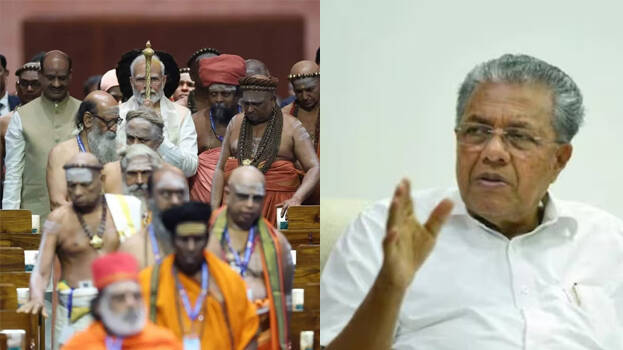 KOZHIKODE: Kerala CM attacked the central government for turning the inaugural ceremony of the new parliament into a religious affair. He said the event showcased a particular religious ceremony and termed it an apathy coming from a government that espouses the secular ethos of the country.
"The country is passing through dire times. The government which was elected to uphold secularism in the country is breaking it to shreds. Every sector is being tried to infiltrate with radicalism. Even the judiciary is not spared. The dictates come from RSS and the keepers in the government just act as second fiddles" CM Pinarayi commented.
CM further accused the BJP of distorting the peaceful conduct of the parliament. He said many vital development projects concerning the state govt are being rushed to a decision unanimously by the ruling party in centre. Pinarayi said there is a tendency to concentrate the working of the country from Delhi, emulating an authoritarian model of governance.
"During flood times, the centre tried to block all aid and even tried stopping donations from foreign lands coming to Kerala. No such financial help arrived from Delhi. Kerala's hope KIIFB also suffers drastically from many such ill decisions taken by the BJP govt at centre. By every means, BJP is trying to suffocate the government in Kerala" CM Pinarayi quoted.