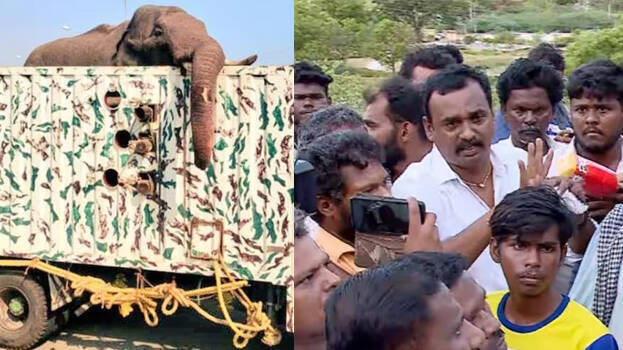 KALAKKAD: The SDPI on Monday staged a protest against the Tamil Nadu Forest Department's decision to relocate rogue tusker Arikomban to the Kalakkad Tiger Reserve. SDPI activists staged the protest saying that they would not allow the elephant to be moved to the tiger reserve. Earlier, the forest department had decided to release Arikomban, who was tranquillized and captured from Poosanampatti in Theni this morning, inside the Kalakkad tiger reserve. Following this, the SDPI activists came out with a protest. Locals also took part in the protest.
In April, the Kerala Forest Department had translocated Arikomban, which used to regularly spread terror in the Chinnakanal region in Idukki, to the Periyar tiger reserve. However, the elephant moved from here to populated regions in Cumbum in Tamil Nadu. This prompted the Tamil Nadu forest department to tranquillize and capture the elephant.
Meanwhile, Madras High Court has directed not to release Arikomban in the forest today. The decision was taken following a plea filed in the Madras High Court seeking to prevent the tusker from being released into the forest. With this, the forest department started thinking of other ways. The Madurai bench will consider the petition at 10.30 am tomorrow. Until then, the elephant will be in the custody of the forest department.