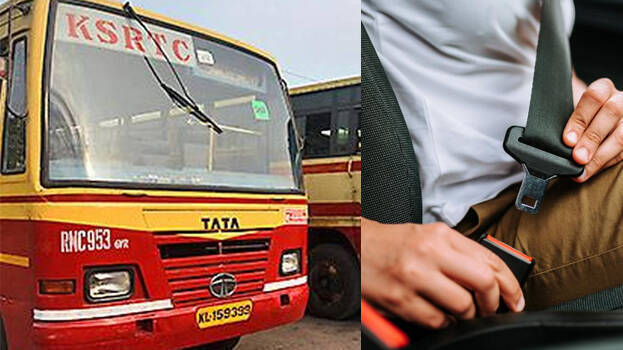 THIRUVANANTHAPURAM: Seat belts are being made mandatory for heavy vehicles including KSRTC buses. This will be implemented from September 1, informed Transport Minister Antony Raju. The minister said the driver and those sitting on the seat in the driver's cabin should wear seat belts, otherwise the AI camera will detect them and a notice will be issued to them. Seatbelts are being made mandatory for heavy vehicles as fines have been imposed for violations detected through AI cameras in the state.

Meantime, the process of dispatching Chelan for violations detected by the cameras has been disrupted. The MVD had decided to send 25,000 chelans per day through post, but even after four days, chelans have not been sent for even half of the violations.

Technical issues with the 'Vahan' software have also affected the AI camera system. Due to frequent strike of 'Vahan' there is delay in preparation of e-chellan which imposes fine. Keltron employees usually hand over the violations caught on cameras to the control rooms of different districts of Motor Vehicle Department. After the vehicle inspectors inspect each visual, fines are levied through the 'e chellan website, which is part of the 'Vahan' software.

When you enter the vehicle number on the website, you will get all the registration information. After uploading the image from the camera, the violation will be recorded and fined. If there is a technical problem in 'Vahan', the details of the vehicles will not be available in e-chellan.

This problem has been there for a long time. Before the introduction of AI cameras, violations recorded by officers on their mobile phones were being transferred to e-chellan. Chellan was imposed only when the traffic in the software lessened. Officials are trying to impose fines in the camera control rooms from 10 am. As inquiries from all states arrive in Vahan, it will be regularly disrupted at this time.

Meantime, there are still some technical problems with the operation of the cameras. The technical committee had found this earlier.