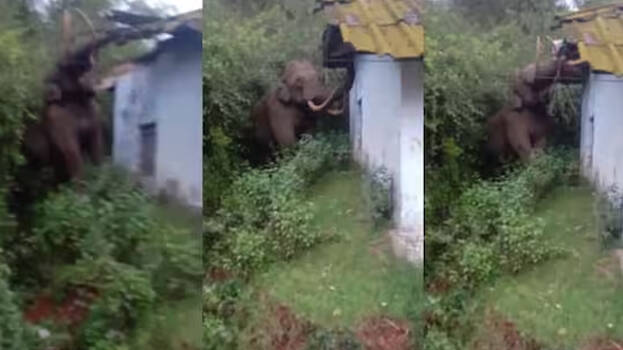 MUNNAR: Wild tusker Padayappa went on the rampage again in the estate of Silent Valley. Padayappa, who came to the second division of Silent Valley, destroyed a ration shop. The plantation workers, who came to know that the tusker has reached the nearby area of the estate, had come to protect the ration shop. Even before that, Padayappa destroyed the roof of the ration shop.

This is not the first incident. Even before this, Padayappa, who had come to the estate returned to the forest after eating the rice to be distributed to the plantation workers and the vegetables grown by the local residents. Meantime, the residents of the area demanded the forest department to take action to prevent the destruction of the rice and other products that are to be distributed to the workers.
The tusker had reached Lockhart Estate the other day and returned after breaking into the shop and eating three sacks of rice. Padayappa, which damaged some areas of Pambanmala, caused traffic jams on major roads while returning to Munnar. The tusker has caused damages after a month and a half. The forest department has advised local residents to be cautious. The elephant has returned to Munnar after spending a month and a half in Marayoor region.