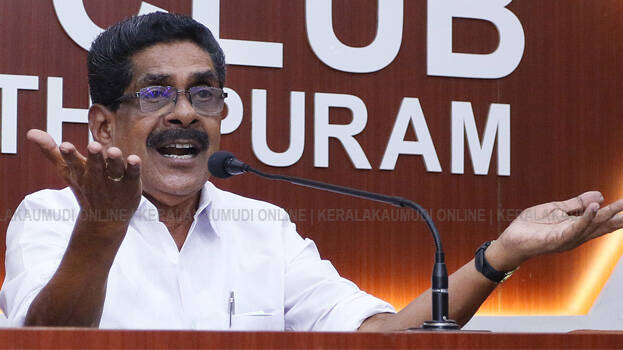 THIRUVANANTHAPURAM: The high command carried a surgical strike due to my intervention in the list of Congress office-bearers in Kerala, said KPCC chief Mullappally Ramachandran. Mullappally said the high command pruned the names of MLAs and MPs due to my rigid stand. The shortcomings in the current list will be remedied in the second phase. The committee of his mind has not been constituted, he said.
"I said the list given by the groups could not be accepted. That was the reason why I stayed in Delhi for twelve days. When the party is going through a crisis, we don't need someone walking with a feather in their caps. We need a dedicated team. If MLAs and MPs become office bearers, they will get no time to work. Assembly elections are round the corner. The MPs will be in Delhi for six to nine months a year. As opposition we have more work. The notion that everything should be in my hands is not right. My stand was that 32 office bearers including vice president and general secretaries are enough or maximum 35. The list had to be diluted later. That's why my formula went wrong," he said.
The truth is that a committee of my choice has not come. I wanted to reduce the number of office bearers. But pressure from groups and MPs was beyond affordable. All former KPCC presidents budged intense pressure. Except A K Antony and Thennala Balakrishna Pillai, everyone had a list. I did not include all the names given by groups. The committee can be made only with the existing people. You cannot bring anyone from the heaven. Meantime, there is no basis for the criticism that has been raised against some of them.
The high command is satisfied with the list published now. But it is a fact that there is not enough opportunity for women, youth and dalits. I wanted to have more representation for women than Sonia Gandhi. But it was not implemented for several reasons. I wanted to include former minister P K Jayalakshmi in the list. I am sad that it could not be executed. I wanted to include five women in the list but it was reduced to three.