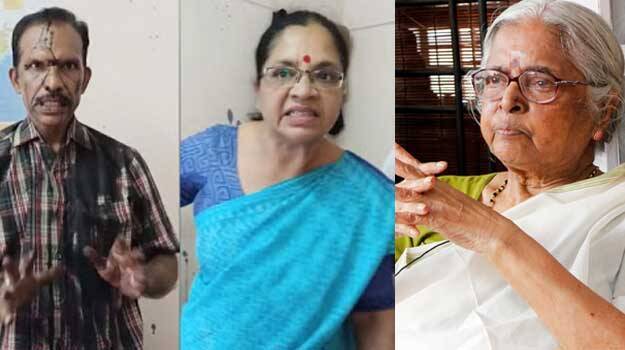 THIRUVANANTHAPURAM: Now, Sugathakumari is the latest person to support dubbing artist Bhagyalakshmi, for manhandling a rogue youtuber who posted abusive comments on women in social media. She also added let there be thousands of women like her in the state and she beat up Vijay P Nair as the representative of all womenfolk in Kerala.
I am thankful to Bhagyalakshmi. I am happy to express the compliments of all women in Kerala to Bhagyalakshmi because she slapped upon Vijay P Nair's face for us. He talked about women in such an undignified manner because he had no mother and sister. Women should respond to such misogynists in a similar fashion. Such men are not afraid of women, the law, the government or anything. But once they realise that women will respond they will never behave such undignified manner again. I am expressing my gratitude to Bhagyalakshmi again. Let there be more women in this state like Bhagyalakshmi.
Police have taken a case against Bhagayalakshmi and 3 others on non-bailable sections for manhandling Vijay P Nair. Meanwhile the case against Vijay P Nair is taken on flimsy grounds. City police have filed cases against both of them.
Thampanoor police have filed cases against Bhagyalakshmi, Diya Sana and Sreelakshmi Arakkal on non bailable sections such as trespassing and manhandling. The case is taken against Vijay P Nair's complaint.
Vijay P Nair who initially said that he has no complaint over the incident, changed his stand by Saturday and submitted a complaint. Two cases were registered against him in Thampanoor and Museum police station. Museum police has also filed a case on the complaint given by Bhagyalakshmi against Santhivila Dinesh citing that he tried to defame her through his youtube channel.
Vijay P Nair was manhandled by Bhagyalakshmi and her accomplices on Saturday evening. They poured motor oil on his body and asked him to apologise for the undignified comments posted by him against women via his youtube channel. Thampanoor CI A Baiju has said that the cases are being probed and subsequent action will be taken after collecting due evidences.