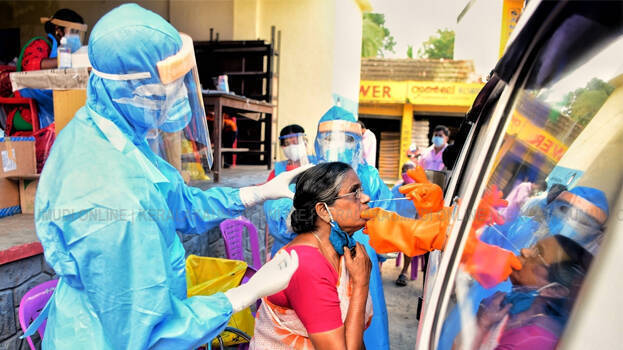 THIRUVANANTHAPURAM: Health experts cautions that Kerala will soon become a state having dangerous levels of covid-19 transmission. Moving growth rate, which shows the increase in Covid-19 cases over a particular period of time, of Kerala is two times higher than the national average. Health experts caution that if testing is not increased and regulations are not strictly implemented, covid death rates could spike to further levels.
Now the per day covid cases reported in the state is over 7,000 now. In the coming weeks, it could cross 20,000 mark. On Tuesday, chief minister has said that per day covid-19 cases could cross 10,000.
The moving growth rate for the past seven days in India is seven per cent , whereas for Kerala it is 28%. The same statistics computed for a month shows 46% for India and 96% in the case of Kerala.
The increasing moving growth rate and the lesser time taken for doubling the number of cases is a matter of grave concern. In the last month, an increase of 200% was witnessed in Covid-19 cases. Death rate in Thiruvananthapuram alone stands at 140%.
Government is facing multiple challenges such as increasing testing facilities and creation of critical care treatment centres in every district. The absence of critical care infrastructure in Pathanamthitta, Idukki, Malappuram, Kasargod pose a grave threat not only to health workers but also to the Covid-19 patients in these districts. The lack of trained staff in critical illness sector except in Thiruvananthapuram district is another issue in the government's Covid-19 preparedness efforts.