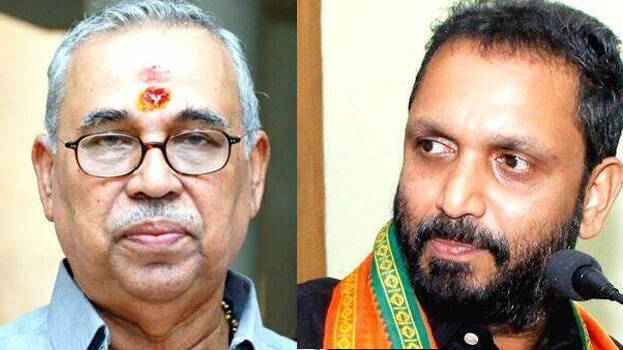 THIRUVANANTHAPURAM: Senior BJP leader P P Mukundan has expressed his displeasure over the recent reorganisation in the party. Don't forget about those who went to jail and worked hard for the party. During the initial days workers flocked to the party not for getting key positions. The nomination process, instead of elections, will only debilitate the party in the long run. "Sidelining those who worked in the party for decades and giving key posts who defected to the party yesterday is not right," Mukundan told Keralakaumudi online.
Those who joined the party yesterday are getting key positions, are you dissatisfied over the party reorganisation?
When new people are inducted into the party, existing partymen should not be sidelined. The experienced should be allowed to share their experience with the new entrants in order to make them aware about the party's ideologies. Compared to other party organisations, BJP gives prominence to ideologies. The party serves equal justice to everyone and it doesn't appease anyone. There is nothing wrong in inducting leaders from other parties but sidelining existing workers is not a good precedence. Newly induced leaders could be selfish and they might have joined the party for getting important positions and we might have to spend a considerable amount of time teaching them the party's ideology. Don't forget those who nurtured and nourished this party.
Will the party benefit from unexpected decisions taken without any enough brainstorming?
Party should initiate for democratic talks. When key posts are given to somebody it should be discussed with senior leaders. Apart from accepting such people a proper insight should be given to them regarding party's ideologies. Those who joined the party after being attracted to the party's ideology is a good thing, but giving such people key posts even before understanding the party properly would be a real burden on them. This is not some post distribution agency, it is a party which moulds national ideologues for bringing progressive changes in the country.
Is the party trying to appease minorities by giving key posts to Tom Vadakan and A. P. Abdullakutty?
BJP doesn't follow a policy of minority appeasement. CPM and Congress opposed CAA as part of minority appeasement. The forefathers of all minority communities were born and brought up in this country. But nowadays credentials of people coming to this country as migrants are suspicious, therefore BJP is restructuring its activities understanding this fallacy.
What is your opinion about the new team of state BJP under Surendran?
His enthusiasm is good but he should remember who lost eventually in the previous Lok Sabha polls. All seats went to Congress. He should have some ideals along with enthusiasm. Ideals and organisational politics are complementary to each other. He should understand that.
Do you think that BJP can reap from the coming local body polls?
BJP has a conducive atmosphere in the state but victory depends on how far the party is able to utilise it. Party has conducted great struggles on issues like gold smuggling but victory depends on the party machinery's skill to convert the anti-incumbency factor into votes.