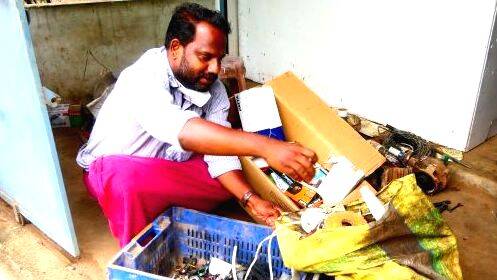 MAALA: Annamanada Grama Panchayat President PV Vinod will go out early in the morning to collect scrap. His arrival is on a bike wearing a colour dhoti. All the 18 ward members of the panchayat will be available for assistance irrespective of party affiliation. This work is after witnessing the suffering of others and to help them.
The funds are being raised by selling scraps for a life-saving mission called 'Yuvathwam Sannadham', which is led by Vinod across the panchayat. The mission was started a month back to raise funds for the liver surgery of an autorickshaw labourer named KO Liju. So far, Rs 3.5 lakh has been collected. The surgery is on the 28th.
'Yuvathwam Sannadham' has become a model work to find treatment costs for poor patients. Old newspapers, books and ironware will be collected from households. In the first phase, the aim is to raise Rs 10,000 on average from each ward.
There are eighteen wards in Annamanada panchayath. The UDF and the LDF are on par with 9-9. Vinod became the president through a draw. As the President stepped forward for the charitable work, all the ward representatives came together for political change.
The scrap collection is held on Sundays. On other days those who can will set out to collect scrap. In every ward, a coalition of volunteers has been formed under the leadership of the representatives. By collecting scrap for charitable activities, waste can also be reduced. Vinod's job is to decorate wedding halls. He finds time for scrap collection in between.