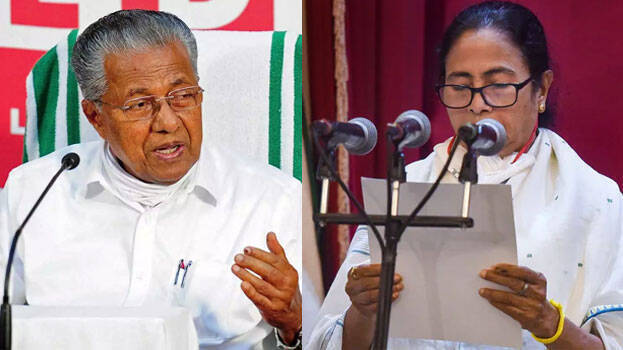 THIRUVANANTHAPURAM: A swearing-in ceremony was held in the country without any fanfare a week ago. The swearing in of Mamata Banerjee, who overcame all challenges and retained power after a tough fight. At a time when the swearing in ceremony of the second Pinarayi Government to be attended by 500 people is drawing criticisms, the swearing in of Mamata was a low-key event adhering to Covid protocol. The swearing in of the Kerala government is taking place amid a lockdown which is till May 23.
Mamata was sworn in Bengal at a time when there were not even as many Covid cases reported in Kerala. She was sworn in on the third day after the election results were announced. She took the oath in a low-key function keeping in mind the corona pandemic. She thought delaying the ceremony would lead to governance crisis.
Meantime, the swearing-in ceremony is being held in Kerala after two and a half weeks of the election results announced. A triple lockdown has been imposed in the capital city till May 23 and it is at this time hosting a function with 500 people. In Bengal, a simple function was held at the Raj Bhavan following Covid norms.
Only 67 people witnessed the swearing in when Governor Jagdeep Dhankhar administered the oath of office. Former Chief Minister Buddhadeb Bhattacharya, BJP Bengal President Dilip Ghosh, opposition leader Abdul Mannan and BCCI chief Sourav Ganguly were among the few invited to the function.
Meantime, preparations for the swearing in of the second Pinarayi Vijayan government at the Central Stadium are in full swing. The chief minister said last time the swearing-in ceremony was witnessed by 40,000 people in the stadium which has a seating capacity of 50,000, but this time because of COVID-19, the invitees have been restricted to 500. However, some said there is no seating capacity for 50,000 and that 40,000 had not attended the function last time.
When the common man abides all Covid protocols and deserts all his personal pleasures at home, there is a huge outcry from the Left profiles on social media against the chief minister's claim that five hundred is not a small number. Within days of the May 2 election results, the governments in Tamil Nadu, Bengal, Assam and Puducherry were sworn in. However, in Kerala the swearing-in ceremony was delayed due to the sharp rise in Covid cases. Meanwhile, the swearing-in ceremony with only 67 people in West Bengal, a bigger state than Kerala in terms of population and geography, is a model to be followed.