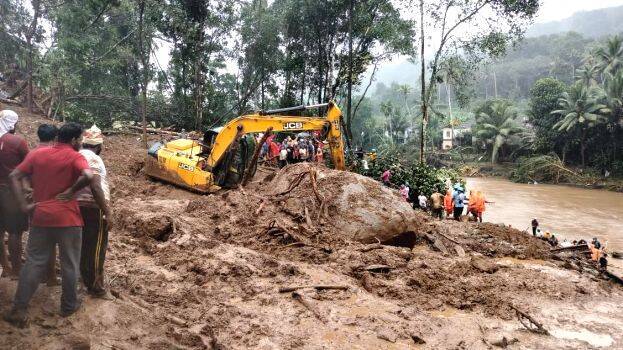 KOTTAYAM: More bodies were found in landslides in Kottayam and Idukki districts. The bodies of six people who went missing in a landslide in Kokkayar in Idukki have also been found. The bodies of four children, a woman and a man were found. With this, the number of deaths due to rains in the state yesterday and today has risen to 23. The bodies of Shaji Chirayil (57), Siyad's wife Fauzia (28), son Amin Siyad (10), daughter Amna Siyad (7), Afzal Faisal (8) and Ahiyan Faisal (4)- sons of Kallupurakkal Faisal were found on Sunday. Three-year-old Sachu Shahil is missing from here. Five of the missing here are children. Seven houses in Kokkayar were completely destroyed in the landslide.
Dog squad and more excavators have been brought here for rescue operations. But the rescue operation was hampered by continuing rains in the area. Despite the rains, rescue operations are progressing in the presence of Dean Kuriakose MP, Vazhoor Soman MLA, district police chief R Karuppasamy, district development commissioner Arjun Pandian and ADM Shyju P Jacob.
At least 10 people have been killed in a landslide in Koottikkal in Kottayam district. The bodies of three people were found yesterday and seven today. The dead included six members of a family, including Martin, 48, Martin's wife Sini, 45, mother Claramma, children Sandra, 14, Sona, 12, and Sneha, 10.