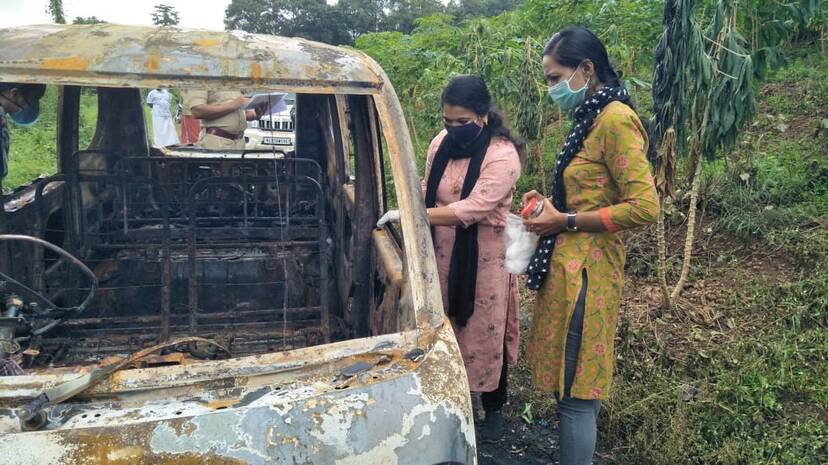 KOTTAYAM: Police have arrested a person accused in several criminal cases and a person who hired him to kill an auto driver, who is his former friend, over a dispute regarding a love affair with a woman.
Gandhinagar police arrested Kanjirapally Choondassery native Vishnu (27) and Vaishakh (25), an auto driver from Ponkunnam, who hired the former, for setting fire to an autorickshaw. The murder attempt was on Akhil (21), a native of Kalluvettamkuzhi in Pala's Poovarani, after calling him to medical college.
Police say: Akhil and Vaishakh were driving an auto at the same stand. They both like a girl in Pala but the girl fell in love with Vaishakh. With this, the two became enemies. Fighting between them had taken place several times. A contract goon was hired to kill Akhil out of fear that he would tell about Vaishakh's bad habits to the girl. Vishnu was also given an advance of Rs 8,000.
Vishnu hired Akhil's autorickshaw on Friday evening under the guise to meet his wife who was undergoing treatment at the medical college. The vehicle was then asked to park near the hospital and Vishnu left. He then called another autorickshaw from the stand near the bus stand and went to the pump to buy petrol in a bottle. He approached Akhil again and went in the auto to Medical College - Athirampuzha Road. When they reached an uninhabited part of the road to the Doctors Quarters at Mudiyoorkara Junction, he asked to stop the autorickshaw. He then pressed Akhil's neck to the handle and punched him. Akhil managed to escape and ran away. Vishnu went after Akhil but could not catch him.
When Vishnu returned, he poured petrol and set the autorickshaw on fire. Neighbours who saw the smoke and fire rising informed the Gandhinagar police. Akhil, who had been in hiding for some time, returned and described the incident to onlookers. Meanwhile, the police arrested Vishnu, who hiding in a bush. SHO K Shiji also arrested Vaishakh on the basis of Vishnu's statement. Both were remanded.