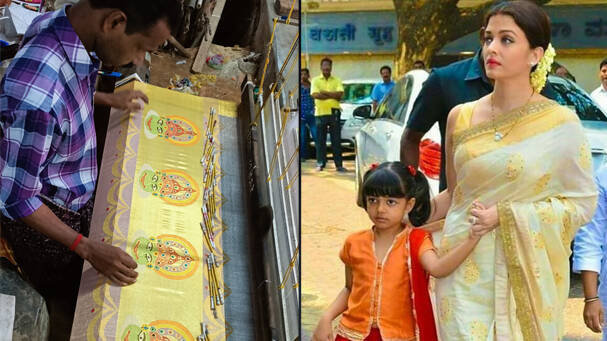 KOVALAM: Another Kalakeli sari from land of handlooms is in the works for former Miss World Aishwarya Rai. The sari is being made for Aishwarya for the second time at the Pushpa handloom in Payattuvila in Balaramapuram. Aishwarya had bought a Kalakeli sari from here 10 years ago.
Shivan (45), a native of Puliyoorkonam in Payattuvila, is the designer of the Kalakeli sari. The sari, which is 5 meters long and 48 inches wide, is a testament to the pride of the handloom sector in Kerala. Inside the border, four forms of Kathakali of 8 inches high and 6 inches wide are woven. Work on the sari started on October 14. Weaving was done for about a metre. It takes a total of 42 days to weave a sari. Original embroidery and cotton color are used for this.
Kalakeli is unique in a way that each thread is woven very carefully by hand.
The crowning example of art
In the Kalakeli sari, the forms of Kathakali can be seen on both sides alike. A special cotton yarn, conditioned by mixing with rice-flour starch, is used for this purpose. Another feature is that it lasts a long time. The weavers say that no chemicals are used in the manufacture. They say that such a sari can be woven with traditional handloom only if there is a sense of art and patience.
Awards
Sarees woven from here have won first place at the national level in 1993 and at the Tamil Nadu Co-optex exhibition in 1995. Pushpa Handloom is also thinking of showcasing the Kalakeli sari at the state and national levels.
Revival of handloom
The makers hope that the handloom sector, that got stunned due to Covid, will be rejuvenated through Kalakeli sari and more people will be attracted to weaving. They complain that the government is not doing anything to protect the traditional weavers and encourage the new generation. The weavers are demanding that the government give more support to the revival of the potential handloom sector, which has great potential in overseas market.