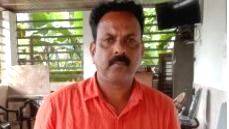 OYOOR: A man was hacked to death at Maruthamanpalli junction in Pooyapalli. The deceased has been identified as Thilajan (44) of Ambadi in Maruthamanpalli. The incident took place around 9 last night.
Pooyapalli police have registered a case against Sethuraj (55) of Poykavila house in Maruthamanpalli. Police say a previous feud led to the murder. Thilajan, who was standing at the junction, was stabbed by Sethuraj near the shop. Thilajan ran into the Margin Free Market on the other side of the road but was hacked to death by Sethuraj inside the shop.
Upon receiving the information, the police reached the spot and rushed Thilajan to the Paripally Medical College Hospital but could not save him. Sethuraj had earlier entered into an altercation with Thilajan and his brothers in connection with a road dispute and had hacked each other. Both were out on bail in connection with the case. Thilajan's brother Jalajan was hacked at Maruthamanpalli junction a year ago. In retaliation, Jalajan and Thilajan, along with the hired goons, attacked Sethuraj at his last October. Thilajan, Jalajan and other accomplices were arrested and remanded in police custody in the case. He was recently released on bail. Yesterday's incident is a continuation of this. The accused Sethuraj is absconding.