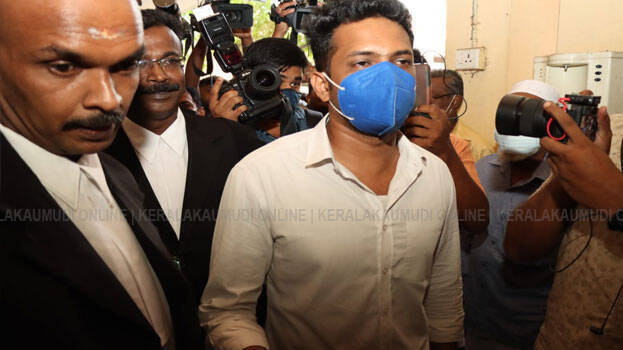 KOLLAM: Ayurveda student Vismaya, who committed suicide after suffering brutal harassment for dowry, has finally got justice. The court found Kiran Kumar guilty. Just have to wait a day for the quantum of sentence to be pronounced. Vismaya's death was discussed even at the national level. The whole country was anxious about the fate.
Defendant's argument
The phone conversations cannot be accepted as evidence. The car given by Vismaya's family was not dowry but a wedding gift. Vismaya's phone conversations were a ploy to get sympathy. On the night she committed suicide, Vismaya menstruated and she took the drastic step on the worry of not getting pregnant.

Prosecution argued
Kiran Kumar, a government official, believed that he had a good demand in the 'marriage market'. This is proved by the previously recorded phone conversations recovered from Kiran Kumar's phone. Kiran's phone conversation said that he had demanded car before the wedding. If the car was a gift, then he would not have insulted Vismaya and her relatives by telling them about its drawbacks. Conversations from the phones of Vismaya's childhood friend Vidya and Vismaya's mother, produced in the court, mentiontioned Kiran Kumar's constant harassment and physical abuse for dowry.
Scientific test results showed that Vismaya did not menstruate on the day of her suicide. Kiran Kumar's relatives had not told reporters that not getting pregnant was the cause of the suicide.

Other evidences against Kiran Kumar
Phone conversations over dowry dispute
Statement of a person in Chittumala where she took shelter following a dispute that broke out in a car over dowry
Neighbour's statement on the dispute between the families of Kiran Kumar and Vismaya over dowry
WhatsApp messages sent to sister-in-law and friend on the harassments she faced from Kiran
Suicide note that erupted after months
The suicide note was not recovered from the room even after a search by the police. Sadasivan Pillai, father of Kiran Kumar, during trial said that a suicide note has been recovered saying that no one has a role in the death. The note was immediately handed over to Sooranad police station. The letter was not accepted as evidence. Pillai's statement was that he did not mention about the suicide note to the media as per the directive of the lawyer.

Chronology
May 30 in 2020- Kiran Kumar married Vismaya
August 29, 2020- A dowry dispute broke out in Chittumala
January 3, 2021-A dispute over dowry in Vismaya's house in Nilamel
June 21, 2021- Vismaya committed suicide in Kiran Kumar's house early morning at 2 am
June 21, 2021- Kiran Kumar surrendered at the Sooranad Station at 8.30 pm
September 10, 2021-Charge sheet filed
January 10, 2022- Trial begins
May 18, 2022- Trial completed
May 23, 2022- Court found Kiran Kumar guilty