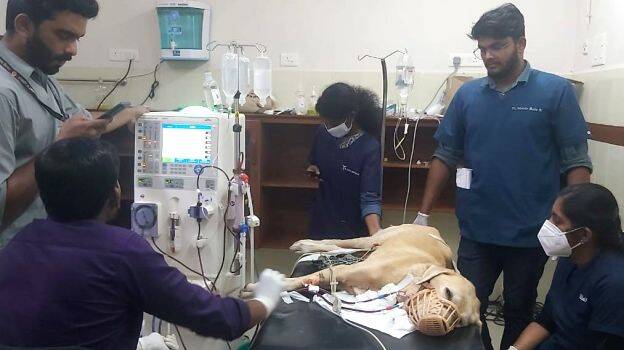 THIRUVANANTHAPURAM: Tinku, a Labrador dog aged 11, was brought to the veterinary hospital on July 25 in a weak state. There is no other way to save Tinku, who has failed kidneys, except dialysis. There is a machine for that. But it has not been tested yet as there are no technicians. The dog's owner Anoop, however, is begging to save Tinku's life. Finally, the doctors sought the help of the medical college. Anoop was ready to bear all the expenses. When it was found out that Tinku's blood was low, Julie came to donate it. Julie is a pet dog of Anoop's friend.
A trial run of dialysis on animals in the capital district was thus successfully completed at Kudappanakunnu Multi-Speciality Veterinary Hospital. Anoop, of Uthram house in Kudappanakunnu's Perapur Kodithara is happy that he was able to save Tinku .
The first dialysis was on August 2 and lasted for an hour and a half. It was only after that that the anaemia was identified. For humans it is mandatory to look at the blood group, but for dogs it is enough the donator should be be of the same breed. The hospital's Deputy Director KM Jacob, Assistant Director J Rajeev and Veterinary Surgeons V Lakshmi, R Anoop and Dhanya Thomas led the dialysis. The hospital authorities are preparing to inaugurate the dialysis centre soon in consultation with the animal welfare department.
There is a dialysis center in private sector in Ernakulam but at the government level, there is only one in Kollam. The machine there is not functional now.
Same machine, same method
#Dialysis machine used for humans is also used for animals
# The cost of dialysis is around Rs 6000
# The dialysis centre was set up at a cost of Rs 10 lakh