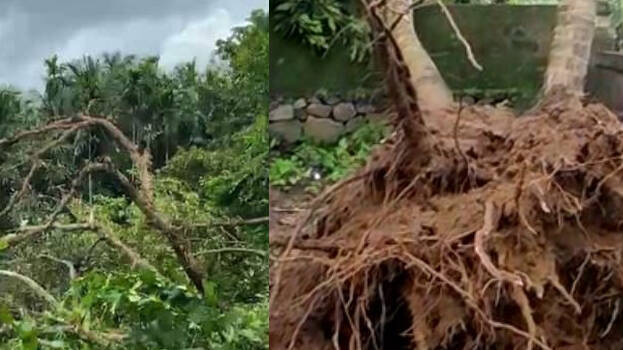 THRISSUR/KASARGOD: Flash cyclone caused extensive damages in the state after flash floods. The flash cyclone wreaked havoc in Kasargod and Thrissur. Although no casualties were reported, several houses have been destroyed. There have been widespread crop damages.

The flash cyclone hit west Chalakudy and Muringoor in Thrissur Monday early morning at 3:30 am. Roofing sheets of houses were blown away. A huge banyan tree in front of the Monippally temple was uprooted. Trees have also been uprooted in other places. Several electric posts have also been damaged. Crop damages were also there.

There were extensive damages in the flash cyclone that hit Manya in Kasargod. More than 100 trees, including big trees, were uprooted. Five houses were partially destroyed. There were widespread crop damages. The cyclone hit areas like Pattaje and Malladukka in Manya this morning. The local residents said there were strong winds and rains in the area before the cyclone.

If earlier such natural phenomena were only a hearsay in Kerala, now flash storms are becoming a regular occurrence in the state. Experts said the gap in the monsoon is the main reason for the formation of flash cyclones in the state. After wreaking havoc, it will come to a sudden end.