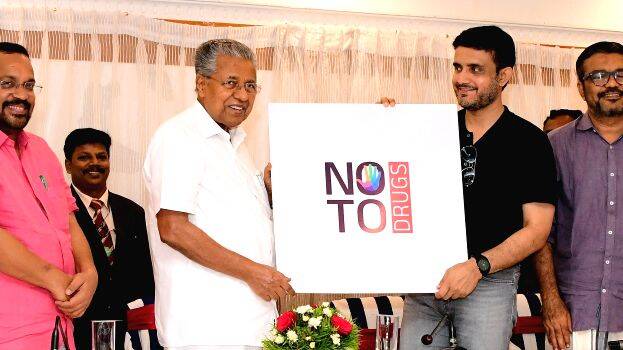 THIRUVANANTHAPURAM: Former cricketer and BCCI president Sourav Ganguly said that the young generation can be guided to the right path through the 'No to Drugs' campaign. The campaign will be launched by Kerala on Gandhi Jayanti. Ganguly, who is the brand ambassador of the campaign, was speaking at the launch of the logo of the 'No to Drugs' campaign. Chief Minister Pinarayi Vijayan handed over the logo of the campaign to Ganguly.
"Guiding children and youth in the right direction is just as important as providing them with good education and career opportunities. The 'No to Drugs' campaign, which is launched to educate students and youth about the ill effects of drugs, is something that every city in the country should undertake," Ganguly said.
"Kerala, which is known as God's own country, is beautiful. This is the second time that I'm coming to Thiruvananthapuram. The journey through the city was a pleasant experience." he added.
Ministers K Rajan, MB Rajesh, V Sivankutty, K. Radhakrishnan, GR Anil, P Prasad, VN Vasavan, AK Saseendran, Chief Secretary Dr VP Joy, representatives of Kerala Cricket Association and others also participated.