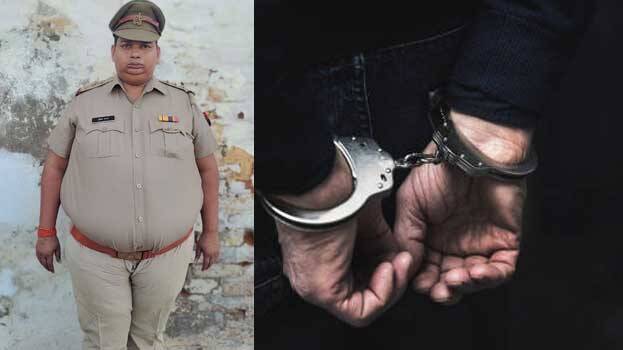 LUCKNOW: A 23-year-old youth weighing 150 kg was arrested by the police for impersonating as a police officer. The arrested, Mukesh Yadav, is a resident of Ghaziabad in Uttar Pradesh. His overweight and the fact that he became a police officer at twenty-three gave him away to the police.
The police received information that a police officer was exhorting money at the Taj Express Highway in Firozabad. Following the information, the police conducted searches for days at the Agra border.
Last day, the investigating officers found a policeman demanding fines from motorists on the highway near Usaini village. He was threatening the owners by saying that he will confiscate the vehicle if they did not pay the fine.

When the police questioned Mukesh on the details of his police station, he began to falter but managed to show his fake identity card to the police. However, on further questioning, Mukesh, confessed to the crime. He said that he used the police uniform to exhort money.
Mukesh Yadav's modus operandi was to travel in a Wagon R car with a big police sticker on it and wearing a police uniform. He checks private buses and trucks and exhorts money from unsuspecting travelers.
The police have confiscated two Aadhar cards, a police identity card, two pan cards, an identity card, one driving license, three ATM cards, one Metro card, and a vehicle registration card. Most of these cards are found to be fake.
A case has been registered against Mukesh Yadav. He was later remanded by the court.