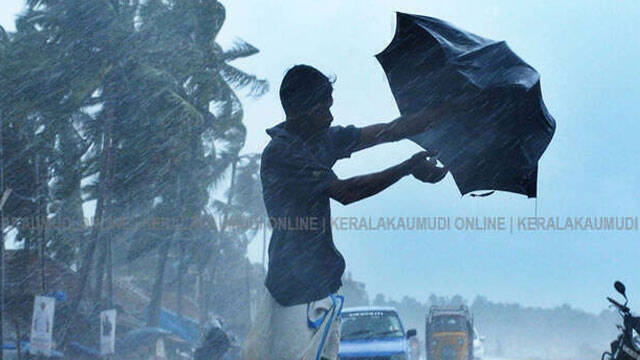 THIRUVANANTHAPURAM: Heavy isolated rainfall accompanied by thunder and lightning will lash Kerala from 9th to 11th of October, said the India Meteorological Department (IMD). The authorities of the State Disaster Management also warned that precautions must be taken when the sky is overcast with dark clouds. Even if the lightning is not visible the guard must not be let down.
The disaster management authorities also warned not to stand in open spaces when the sky is overcast with dark clouds. Both windows and doors must be closed and the power supply to electrical equipment in the house must be cut off. Also, everyone must maintain a distance from electric equipment.
In addition, avoid standing on the terrace, or at high altitudes and on the branches of trees. Flying kites is also dangerous when there is a thunderstorm.
Do not let children play on open grounds or on the terrace when the sky is overcast. Electricity will not flow through the body of a person who is hit by a lightning bolt. Therefore, the person must be taken for medical treatment immediately. Also, avoid fishing and swimming in water bodies when there is a thunderstorm.
Being inside a vehicle during lightning is safe. Therefore, if anybody is traveling in a vehicle during thunderstorms, it is safe to remain inside the vehicle. However, those who are traveling by cycle, scooter, bike, and tractor must avoid it.