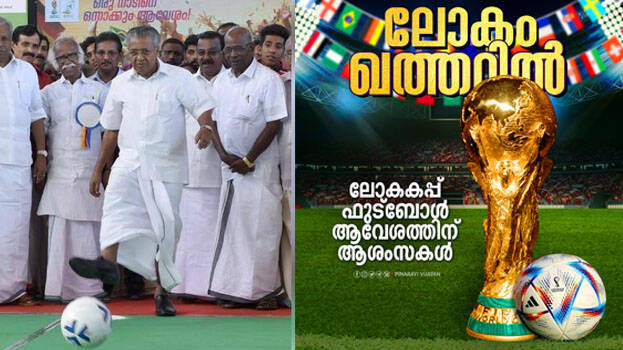 THIRUVANANTHAPURAM: Chief Minister Pinarayi Vijayan took to Facebook to extend greetings for the Qatar World Cup. "Qatar hosting the World Cup is a very exciting thing for Malayalis. Qatar is a country with a large number of Malayali expatriates. This is a golden opportunity for our football lovers to watch world-class matches. Our expat brothers have participated in the preparations for the World Cup and other construction works. This world competition is also a realization of their hard work", he wrote on Facebook.
"The whole country is celebrating the football world cup that will be held in Qatar. Malayali's love for football is well known. The football fever that was quenched by the performances of greats like Pele, Maradona, Platini and Beckenbauer has now skyrocketed with players like Messi, Ronaldo and Neymar. The gigantic cut-outs erected across the river at Pullavur in Kozhikode have received international attention. Discussions related to this are heating up in all public places. Innumerable events like friendly matches and rallies are organised."

"Salutations to Qatar who prepared this World Cup in an elaborate manner and to the Malayalis who worked behind it. Good luck to all participating teams", he said.