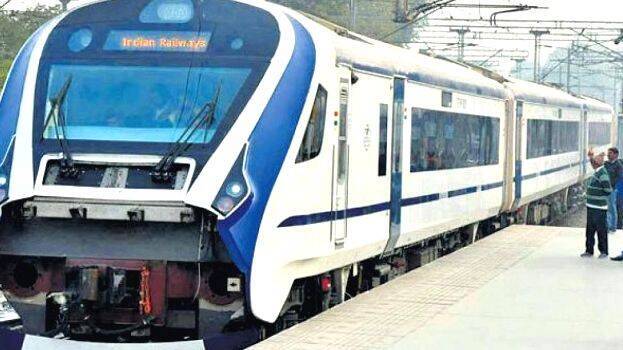 THIRUVANANTHAPURAM: It has been decided to increase the speed of trains in Kerala from 110 to 160 km per hour ahead of launching Vande Bharat services. With this, it will only take one and a half hours to reach from Thiruvananthapuram to Ernakulam and can reach Kozhikode in three and a half hours.
The speed will be increased to 160 km/h on the Shornur - Mangalore section by March 2025 and on the Shornur - Thiruvananthapuram section in a phased manner by March 2026. A committee has been appointed to submit report regarding the areas and changes needed in the Thiruvananthapuram - Mangalore 626 km track. Tenders will be issued as soon as the report is received.
The speed of the trains will be increased before that. For this purpose, the General Manager of Southern Railway RN Singh and senior officials had conducted a window trailing inspection of the entire track in Kerala.
The speed will be increased first on the Thiruvananthapuram - Shornur route, Thiruvananthapuram - Kayamkulam will be 110 km/h, Kayamkulam - Thuravoor 90 km/h, Thuravoor - Ernakulam 110 km/h and Ernakulam - Shornur 90 km/h. In 92. 75 km on Shornur – Podanur route, speed will be increased to 130 km/h. This work will be completed by March 2026. On Shornur - Mangalore 306.57 km, the speed will be increased to 110 - 130 km/h. This work will also be completed by March 2025. Chennai-Bengaluru speed will be increased to 160 km/h. These works will be completed by the current financial year.
Two new platforms and train stabling line will be constructed at Kochuveli railway station. A total of Rs 39.57 crore of construction will be done. The length of the existing platform 2 and 3 will be increased by 53 metres. A new shelter of 32 metres long will also be built there. A shelter 64 metres long will be constructed on platforms 4 and 5. A new signal system will also be installed. In connection with this, the Railways informed that restrictions have been imposed on the rail traffic through this route from December 1 to 11.