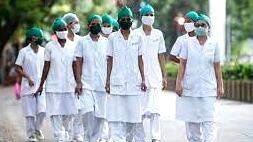 New notifications in three months
KOCHI: The state government notification mentioning the minimum wages and other benefits of nurses working in the private sector that was released in 2018 has been canceled by highcourt. The court has asked the government to come up with a new notification in 3 months after listening to the arguments from the nurses and hospital organizations.
Justice Amit Rawal produced the ruling on the petitions filed by the united nurse's association, Kerala private hospital's association, association of advanced specialty health care institutions, and multiple private hospitals that questioned the notification.
Government had decided to that a minimum wage of 20,000 and a maximum wage of 30,000 should be paid to the nurses in private hospitals. The nurses association filed a petition saying that this wage is not enough due to higher living standards. They pointed out that the minimum wage in government sector is 39,000.
Private hospitals filed the complaint that the government took a one-sided decision without listening to them and that the 2018 notification is not valid. The state government issued the notification taking into consideration the report of the Jagdish Prasad committee appointed by the central government. The notification was canceled on account of complaints from both parties.