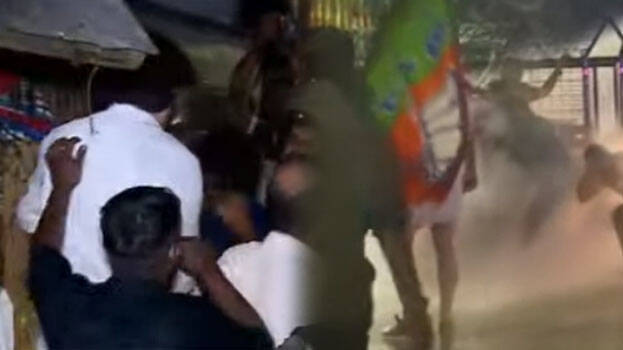 THIRUVANANTHAPURAM: The screening of the BBC documentary criticizing Prime Minister Narendra Modi has begun in the state. Left organizations and Congress organizations have started screening the documentary in various places in the state. In Thiruvananthapuram, BJP and Yuva Morcha workers staged protests after the documentary was screened at Law College Junction, Manaveeyam Veedhi and Poojapura. BJP's protest on the Poojappura-Thirumala road is still going on.
The police placed barricades and used water cannons. Although seven rounds of water cannon were fired, the protesters did not retreat. BJP and Yuva Morcha workers tried to stop the screening of the documentary in Kalpetta in Wayanad. Following this, the police arrested the protesters and removed them from the spot. The screening is still taking place. The Yuva Morcha workers tried to stop the documentary screening at Manaveeyam Veedhi, Thiruvananthapuram. The protesters then clashed with the police. Meanwhile, a clash erupted between Youth Congress workers, who were watching the program, and Yuva Morcha workers.
Although it was announced that the documentary would be screened at Victoria College in Palakkad and University Campus in Kannur, permission was denied for screening.