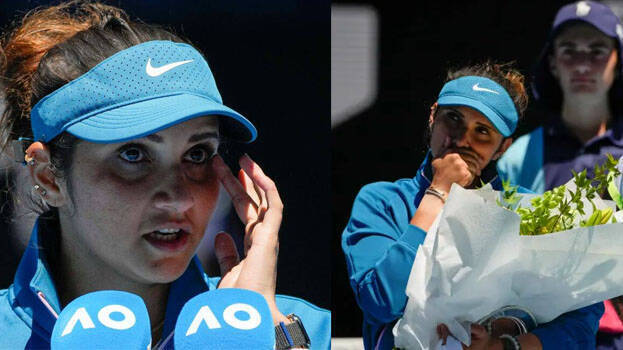 Indian tennis icon Sania Mirza's Grand Slam career came to end in the Australian Open mixed doubles final. The stage was set for a fairytale ending but the Indian duo of Rohan Bopanna and Sania Mirza couldn't get their hands on the trophy. Following the match, Sania gave an emotional farewell speech at the Rod Laver Arena in Melbourne.
"If I cry, these are happy tears. I don't want to take away the moment from Matos-Stefani who have deserved this. I'm still going to play a couple more tournaments but my career started in Melbourne in 2005 when I played Serena as an 18-year-old. I have had the privilege of coming back here again and again and win tournaments here and play some great finals here. Rod Laver Arena has been really special life. I couldn't think of a better arena to finish my last Grand Slam", Sania said.
"Like Rohan said, he was my first ever mixed doubles partner when I was 14 and we won the nationals. It wasn't a same arena like this one. But that was 22 years ago. And I couldn't think of a better partner, he is one of my best friends and best partner to finish my career with. Obviously we couldn't get over the line but there is no better person for me to finish my Grand Slam career with. Thank you, Rohan," she added.
This was the 11th Grand Slam final of Sania's career. She has 43 doubles title wins, including six Grand Slams.
Sania gave birth to her son Izhaan in 2018. She made her return to tennis in 2020.
Sania had announced that she will retire from professional tennis after losing in the first round of the Australian Open women's doubles in 2022. However, she withdrew this decision and started contesting again. Mirza said earlier this month that the WTA 1000 Dubai Duty Free Tennis Championships in February will mark the conclusion of her professional tennis career.