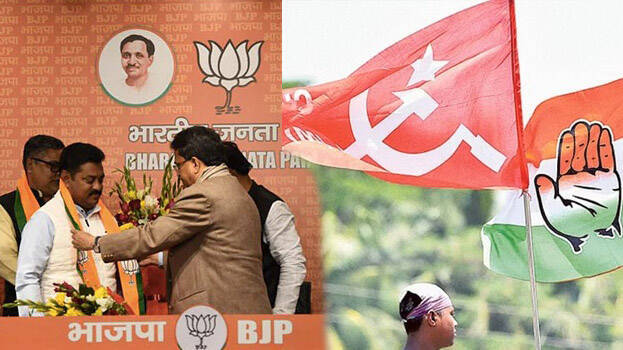 AGARTALA: With the elections in Tripura just around the corner, a major setback has landed for the CPM- congress alliance. The sitting CPM MLA along with many other dominant names in the party has shifted their base to BJP. Kailashar MLA Moboshor Ali and former MLA Subaal Bhowmik joined BJP in a startling move putting the CPM in a fix.
The seat allocation scuffles had been long prevalent within the CPM camp. This is being judged for the sudden shift of CPM leaders in flocks toward the BJP camp. Rumors go saying many congress leaders will also abide with the saffron party before the impending elections on February 16.
In a meeting in Delhi, the CPM MLA Moboshor Ali took the BJP membership. Earlier Ali's seat was given to congress this time after the two parties came into a pact to fight the BJP together. Meanwhile reports state that BJP will nominate Ali for a seat in the forthcoming assembly elections. The CPM was on a busy run to join in cohorts with the congress to get back their old forte of Tripura.