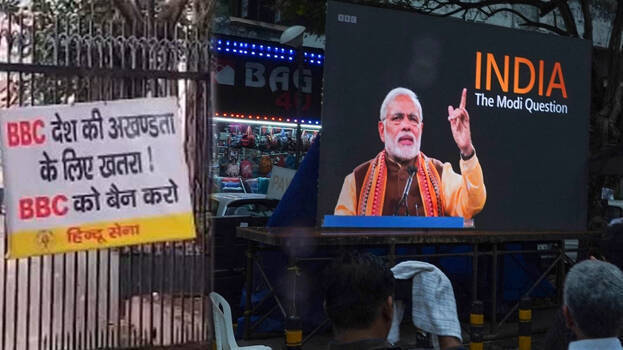 NEW DELHI: Hindu Sena protests against BBC in the wake of the controversial documentary on the Gujarat genocide. Flux boards against the documentary were erected in front of BBC's headquarters in Delhi. Hindu Sena demands that BBC is a threat to the unity and integrity of India and that it should be banned immediately.
The Hindu Sena has accused that BBC is a part of an international conspiracy to tarnish Prime Minister Narendra Modi's image. At the same time, the BJP also came out with a strong protest against the documentary 'India: The Modi Question' which was aired in two parts. The plot of the first part of the documentary was about the Gujarat riots and the second part was about the continuity of governance of the Narendra Modi government and related events.
The first part was banned from airing in the country at the time of its release. Links to the documentary were removed by Twitter and YouTube following the order of the Ministry of Information and Broadcasting. Following the directive, more than 50 posts, including that of Trinamool leader Derrick O'Brien, who shared a link to the documentary, have been removed from Twitter. The ministry proposed to remove the links of the first episode using special powers under the IT Act, 2021.
However, despite the central government's ban, opposition organizations including Congress, CPM, and student organizations organized documentary screenings in states including Kerala. Unpleasant incidents were also reported on campuses including JNU after authorities denied permission of screening the documentary by the student union.