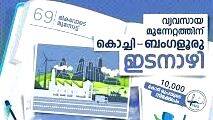 THIRUVANANTHAPURAM: The Kochi- Bengaluru industrial corridor scheme has received a Rs 2608 crores permit from the government. 2185 acres of land was earlier acquired by the government after KIIFB helped with a loan. The money has been repaid which made the new 2608 crores available for the government, explained the finance ministry. Rs 850 crores from this will be taken for the acquisition of land for Kochi gift city. KINFRA is the nodal agency registered for the land acquisition process.

Minister P Rajeeve said that more than 82 percent of the land has been taken by the government. He said the state government has formed a separate company, the Kerala Industrial Corridor Development Corporation as the Union Ministry of Commerce had approved the extension of the Bangalore Industrial Corridor to Coimbatore and Kochi.
The scheme has equal involvement of the central and state government. The government expects the mega project to create 22,000 direct and 80,000 indirect jobs in five years, making a significant contribution to the development of Kerala. The project is said to bring an investment of 1000 crores. The project will also give a facelift to cities such as Kochi and Palakkad.